Do you have a restaurant and want to make Online Marketing more popular and profitable?
You probably already use online platforms like Facebook, Instagram, or Google My Business to tell people about your restaurant and show your menu.
But did you know that there is another online platform that can help you grow your restaurant business even more? It's called LinkedIn.
LinkedIn is the world's largest professional network, with over 930 million members. It is not just a place to look for jobs or talk to your coworkers, but also a place where you can show your skills, build your reputation, and find new customers.
In this blog post, I will tell you some of the benefits of using LinkedIn for your restaurant business, and how to use it effectively to get more attention, leads, and sales.
Let's start!
Why Use LinkedIn for Your Restaurant Business?
LinkedIn is not like other online platforms. It is a place where you can show yourself as a trusted and reliable expert in your field, and attract more customers who are looking for your services. Here are some of the benefits of using LinkedIn for your restaurant business:
LinkedIn helps you get more attention online. Creating a profile on LinkedIn also helps you get more attention online, as it helps you show up higher on Google when someone searches for your name or your restaurant name. This means that more people can find you and learn about you when they search online.
Showcase Your Skills and Achievements on LinkedIn. Unlike other online platforms, LinkedIn gives you more space and tools to show your skills, experience, awards, reviews, and portfolio. You can also write articles, share videos, and join groups related to your field. This way, you can show your knowledge and value to your customers, and make yourself look like an expert in your field.
Unlock the Power of Referrals and Recommendations on LinkedIn. LinkedIn helps you get referrals and recommendations from your connections, building trust and credibility. Connect with fellow restaurant professionals to create opportunities for mutual growth.
How to Optimize Your LinkedIn Profile for Online Marketing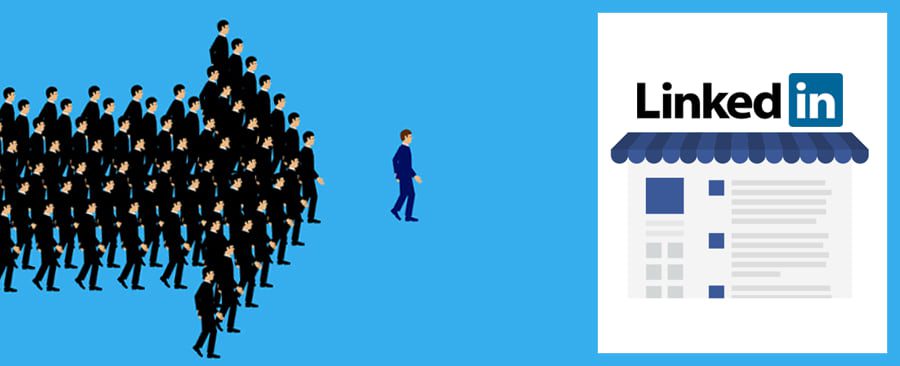 Now that you know why you should use LinkedIn for online marketing, let's see how you can optimize your profile to make it stand out and attract more leads.
Here are some tips to follow:
Use a professional headshot. Your profile photo is the first thing that people see when they visit your profile or see your posts. Make sure it is clear, high-quality, and friendly. Avoid selfies, filters, or distracting backgrounds. A professional headshot will help you make a good first impression and convey trust and confidence.
Write a catchy headline. Your headline is the second thing that people see after your photo. It is a short sentence that summarizes who you are and what you do. Make it catchy, relevant, and specific. Include keywords related to your niche, such as "Italian Restaurant Owner in Chicago" or "Award-Winning Chef and Caterer". Avoid generic or vague terms like "Restaurant Professional" or "Passionate About Food".
Craft a compelling summary. Your summary is the section where you can tell your story and showcase your value proposition. It is a chance to introduce yourself to your audience and explain why they should work with you or follow you.
Fill out the rest of your profile sections. Don't leave any section blank or incomplete on your profile. Make sure you add relevant information about your education, work history, skills, endorsements, certifications, publications, projects, honors, and volunteer work. These sections will help you showcase your achievements and qualifications, and also improve your SEO ranking.
How to Use LinkedIn for Online Marketing
Once you have optimized your profile, you are ready to use LinkedIn for online marketing. Here are some of the best practices to follow:
LinkedIn Success Tip: Engage Your Audience with Valuable Content. Share articles, videos, infographics, and more on food trends, restaurant tips, customer stories, and industry news. Be original, consistent, and use hashtags and images to boost visibility.
Use paid advertising. If you want to boost your exposure and generate more leads on LinkedIn, you can also use paid advertising options. LinkedIn offers various types of ads, such as sponsored content, sponsored InMail, text ads, video ads, or dynamic ads. You can target your ads based on criteria such as location, industry, job title, company size, or interests. You can also track and measure your ad performance and optimize your campaigns accordingly.
Interact with your network. On LinkedIn, don't just post and disappear. Interact with others! Like, comment, and share their posts. Join groups and talk with people who share your interests. Send personal messages to your connections, offering help or advice. Be friendly and professional to build strong relationships.
Conclusion
LinkedIn is a great tool for Restaurants who want to grow their businesses and find more customers. By making a great profile, posting helpful content, using paid advertising, and talking to your online friends, you can use LinkedIn for marketing and achieving your goals.
If you need help with making or improving your LinkedIn profile or strategy, feel free to contact me.
I hope you liked this blog post and found it useful. If you did, please share it with your friends and leave a comment below.
Thank you for reading!